New Release: So Pipe the Young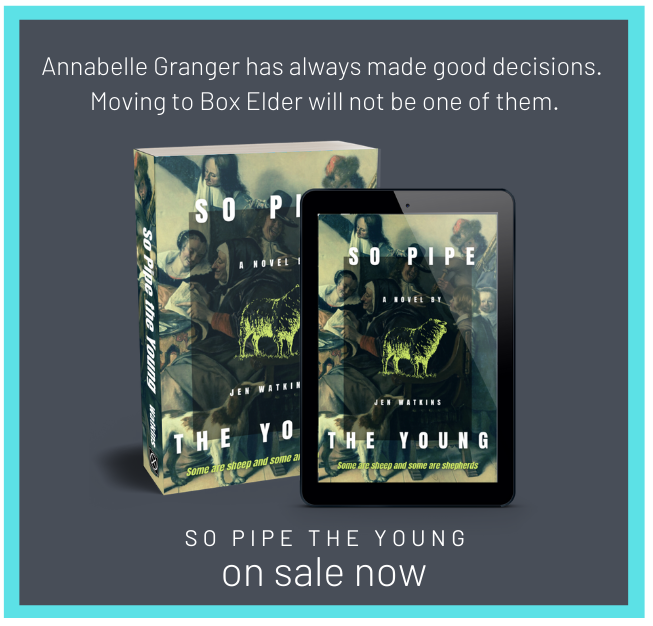 We are thrilled to announce the release of SO PIPE THE YOUNG, the first book in the Dark Seasons series. This easy to read literary suspense novel disguises an examination of the true horrors of modern life: our fear of insignificance, online fame and personal branding, conscientious living, loneliness, the opioid epidemic, the urban versus rural divide, and the perverse aspirations of today's elites. If Celeste Ng wrote Sharp Objects.
Here is our interview with the author, Jen Watkins.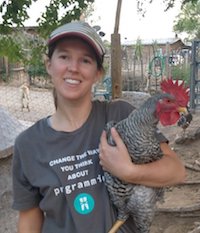 What's the book about?
So Pipe the Young follows wife, mother, and robotics engineer Annabelle Granger. After a violent death at her son's school, she leaves her career and uproots her suburban family from Michigan for a more authentic life in rural New Mexico. Ambitious Annabelle remakes herself online as a homesteading guru. But while she chases approbation on Instagram, her son and his new friends invent a sinister outlet for his trauma.
Who is with you in your author photo?
That's Punky Rooster. He's the meanest rooster you'll meet, but I love him. Like Annabelle, I was a Michigander who moved to rural New Mexico. There was alot to learn. The mud, the rushing arroyos, the desire to get plants to grow, those were all things Annabelle and I have in common. Beyond that, it's all fiction.
What's with that title?
There is an old chestnut that goes As the Old Sing, So Pipe the Young. It is the subject of this Dutch painting by Jan Steen from 1668 of the same title.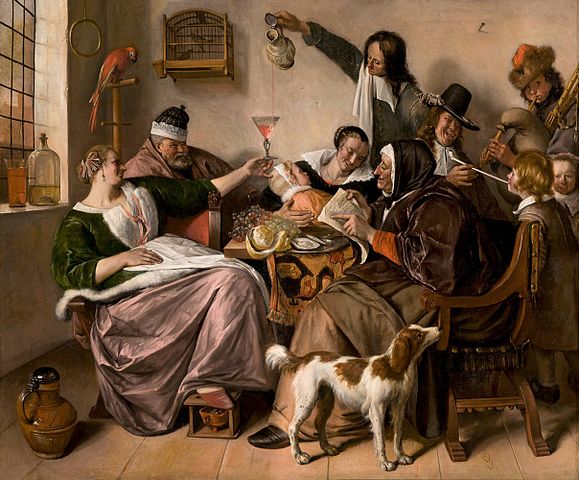 When you first look at the painting, you see a boisterously happy family gathering. But as you look closer you see how the moral corruption of the adults is being passed to the children. My story tells a similar tale of how the surface of family life does not reveal what lies beneath.
What else should readers know?
This is a book you're going to want to talk about. I've got a Book Club guide posted to my website. Even if you don't have a book club, there are good spoiler-free questions to help you think about the nuances of the book. And, if you've bought the book and want it signed, I've got these cool stickers I can sign and send you for sticking in the paperback (for readers in the US). Contact me on the socials and I'll mail you one.
When is the next book in the Dark Seasons series coming out?
I'm hard at work on it right now, so expect it soon.
Thanks, Jen!
To see pastoral New Mexico, beautiful red hair, and sheep, check out Jen's author inspiration Pinterest board.
---
So Pipe the Young by Jen Watkins
Annabelle Granger has always made good decisions. That's why she quit oil painting in college to become a robotics engineer. That's why she married Dr. Paul Granger, management consultant, her supportive modern mate. Together with their five-year-old son, Heath, they are living the suburban dream. But Annabelle fears her sensible life lacks originality. Will she ever make her mark?

Annabelle has always made good decisions, but moving to Box Elder will not be one of them.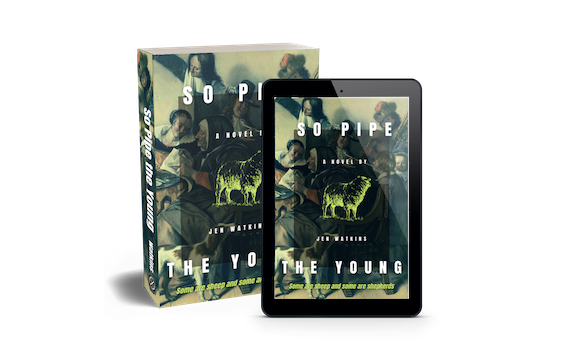 Novel
336 pages
paperback and ebook
ISBN: 978-1-955538-01-5
May 2021
Jen Watkins
When you buy this book for $12.99, the author earns about $1.46 depending on the retailer.
Remember to leave a review. That is the best way to help a book find its readers.